Richard Barrie, a recording studio technician with more than 40 years experience, can be contacted at
After graduating from the University of Kent with a degree in Theorical Physics I worked for a while in the Medical Physics department at the Western General Hospital in Edinburgh.
While living in Edinburgh I was asked to help with the sound for a production in the Edinburgh Festival and through this I discovered the world of Rock 'n Roll.
My first project was an add-on for an Eventide 949 Harmonizer that allowed foot control of musical interval pitch changes during live performances which was commisioned by YES for a mid 70s tour through their associated electronics company, SURVIVAL PROJECTS.
My second project was a chasing sequencer to control individual bulbs in the large logo that SMOKIE used over the front of their stage set while on tour.
As I completed this project I was asked by HIGHLIFE PRODUCTIONS, who had commisioned the sequencer, if I would like to go on tour to help with the technical side of a forthcoming production, BLONDIE PARALLEL LINES tour.
And so began the touring years
The Touring Years
From the mid 70s to the mid 80s I was continuously on tour with a varety of bands and productions of all scales from small clubs to football stadia and outdoor festivals.
My main tasks were to design and co-ordinate the technical aspects for the sound systems and to also advise on the technical areas of the stage show and band back-lines. I also was part of the team that would oversee the logistics of the whole touring productions.
Amongst the bands and productions I toured with are:
BLONDIE, SMOKIE, MIKE OLDFIELD, MADNESS, THE STRANGLERS, THE BUZZCOCKS, ULTRAVOX, THE TOURISTS, EDDIE MONEY, REO SPEEDWAGON, GRAHAM PARKER AND THE RUMOUR, THOMAS DOLBY, KING CRIMSON, MIGUEL RIOS, BARRY MANILOW, GEORGE BENSON, KIDS FROM FAME
While on tour various musicians asked me to help with technical problems at their home studios and so I gradually stopped touring full-time and so began the studio years.
TThe touring years
From the mid 80s to the mid 90s I worked mainly in private recording studios.
Projects undertaken included the full design and project management of several private recording studios.
I also specialised in the creation of temporary recording studios in various parts of the world for the duration of single album recording projects.
During this time I also became involved in the design, build and running of a state-of-the-art video editing studio based on Sony 1" video technology.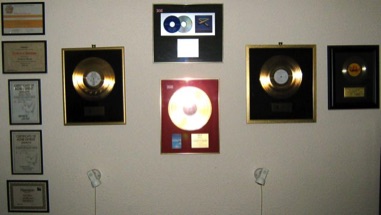 In pursuing these duties I attended various manufacturer's maintenance courses and have many Certificates of Achievement including those from AMPEX for the ATR-124 analogue multitrack tape deck, HARRISON for the SERIES X fully recallable analogue mixing desk, SONY PCM-3348 digital tape deck, SONY BVH-2000 series 1" video recorders, SILICON GRAPHICS Unix Administrator for their video graphics computers and NEVE on the CAPRICORN digital audio mixing desk.
I have also gained much experience with analogue NEVE desks of various models, SSL desks and other AMPEX and STUDER tape decks.
In 1997 I took up the position of Senior Technical Support Engineer at AIR Studios in London where I am still employed. As I approach retirement I have lessened the time I spend at AIR, but continue to take on private projects.